BOLTZE wholesale lanterns – tealight holders & lanterns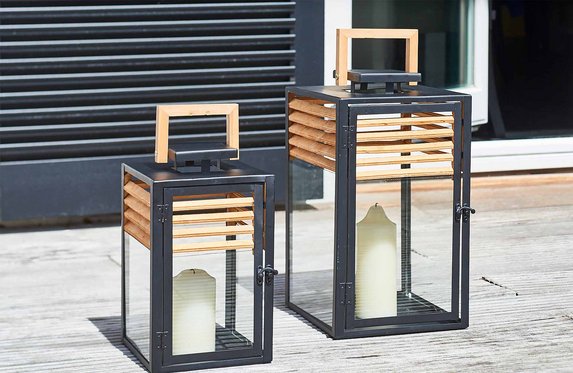 Tealight holders and lanterns are available in a wide variety of sizes and designs in the BOLTZE wholesale lantern range. From high-quality outdoor lanterns that'll withstand wind and rain to oriental tealight holders made of mosaic glass to popular boho style tealight holders made of bamboo wood. This is just a little taste of what you can expect when browsing our wholesale lantern range.
What is the difference between tealight holders and lanterns? Tealight holders are available in various sizes and hold at least one candle. Tealight holders are designed to protect candles against wind so that they don't accidentally blow out. Lanterns serve a similar purpose except that they also contain a lid for protection from rain. While tealight holders are exposed on the top, lanterns can be completely encased, making them ideal for outdoor use. Various styles of tealight holders and lanterns are available in our wholesale lantern range. Offer your customers a great selection that they'll be sure to love.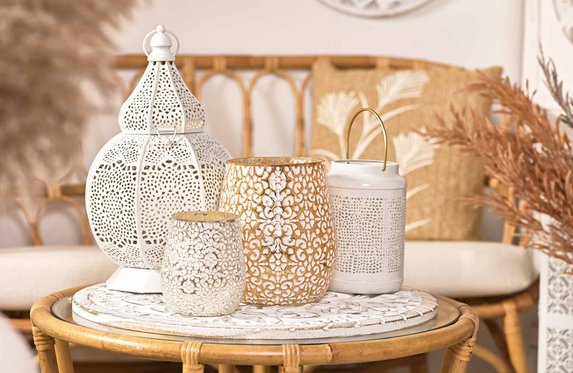 Want to buy wholesale lanterns? We offer different options: Perhaps the best way to gain inspiration from the diverse BOLTZE range is by visiting one of our two showrooms in person. You can find us in Essen or Braak near Hamburg. Here we present our various product categories and theme ideas in premises spanning 5,200 m2. Immerse yourself in the decorative world of BOLTZE wholesale lanterns as part of a showroom tour and discover tealight holders, lanterns and other decorative articles such as flower pots and vases or decorative figurines. While browsing the showrooms together with your contact partner, you can directly choose your products, scan them and conveniently order them via a tablet.
Our team also looks forward to meeting you at one of the many trade fairs where BOLTZE wholesale lanterns are represented. Personal contact is important to our team, which is why we're always happy to see you. Our trade fair stands give you a good insight into our range, where you can be inspired by new BOLTZE items and conveniently place an order.
Purchasing wholesale lanterns from BOLTZE is also plenty of fun using purely digital channels. Although there is no personal contact with us, you'll save on long journeys and can conveniently order the lanterns you like from the comfort of your desk. Easily shop by category in our my.BOLTZE B2B online shop and set filters so that you only see the tealight holders and lanterns that suit you. Your BOLTZE wholesale lantern online shopping experience is made even more inspiring by changing to ambience view. This option displays images in large-scale format so that you can view each product in detail. You won't be distracted by any text. Simply click on the heart in the top corner to add an article to your wish list. You can then decide later which items to purchase in your digital shopping basket. Purchasing wholesale lanterns has never been so easy!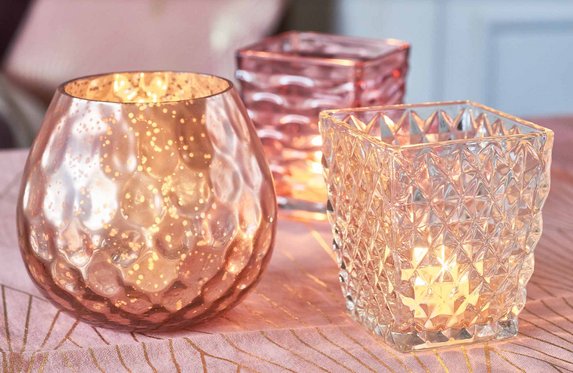 As one of Europe's leading lantern wholesalers, we offer numerous benefits for our customers. As your reliable partner, we want to work with you to ensure your business success. You can rely on personal support when purchasing wholesale lanterns from BOLTZE. Support that is tailored precisely to your needs. We gladly share the results of our findings with you, which we regularly showcase in our "best of" article range. This features products that have been frequently purchased by many of our customers and have proven themselves to be real bestsellers. This means that you know that these products will be well received by your customers too. The fact that these items and all other BOLTZE wholesale lantern products offer guaranteed high quality is a matter of course for us. We aim to ensure that you only receive tealight holders and lanterns that have undergone a multi-stage quality assurance process. Each article is carefully scrutinised by a qualified team of experts. Only articles that withstand all tests leave our wholesale lantern warehouse to make their way to you.
We also guarantee the permanent availability of goods. Consider our warehouse your warehouse. You decide when to receive your ordered tealights and lanterns. We safely store your goods, saving you valuable warehouse space. Follow-up orders of our wholesale lanterns with immediate delivery can also be made, even in small quantities. This means you can ensure last-minute replenishment if your customers (gladly) buy more products than you planned. BOLTZE wholesale lanterns ensure that your shelves are never left empty and that your customers can enjoy a wide range of products.